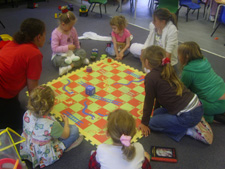 Children in our care are escorted into school just prior to school starting and are collected from their classrooms as agreed with the individual school, ensuring continuity of supervision.
We provide play opportunities either side of normal school hours including games, arts and craft, books and a variety of toys. During good weather we offer outdoor play on the school playgrounds and we have access to televisions and computer games. We also try to ensure there is a quiet area available for children to do their homework if they wish.
In school holidays, cover is best provided by centralising facilities as this enables a wide variety of activities to be offered. Larger numbers of children make it practical to offer team games such as football, hockey, cricket and rounders, while still offering plenty of choice for those children not wanting to participate in organised games.
The holiday club operates on every day which schools are closed except bank holidays. Locations vary from time to time to meet the demand, but places are always available in Meriden, Shirley and Southam. Places are available to all children whether they attend school clubs during term time or not. Please check with your local school club for location and availability.
The clubs offer a wide variety of activities for all children over four years of age including:
Cookery Dressing up
Art and craft
Books and quizzes
Films and television
Dolls houses, cars and other small world toys
Indoor and outdoor games.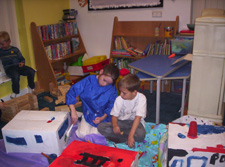 Out of School Clubs are located at:
Windy Arbor Primary School, Woodlands Way, Chelmsley Wood, B37 6RN (also Nursery/Full Day Care)
Haslucks Green Junior School, Haslucks Green Road, Shirley, B90 2EJ (Term time only, also Nursery/Full Day Care)
Burman Infant School, Velsheda Road, Shirley, B90 2JW (also Nursery/Full Day Care)
Mill Lodge Junior and Infant School, Aqueduct Road, Shirley, B90 1BT (also Nursery/Full Day Care)
Meriden Church of England Primary School, Fillongley Road, Meriden, CV7 7LW (also Nursery/Full Day Care)
St Alphege Church of England Junior School, Widney Manor Road, Solihull, B91 3JG (Term time only)
St James' Church of England Primary School, Tollgate Road, Southam, CV47 1EE (also Nursery/Full Day Care)
Holiday Clubs are located at:
Meriden Church of England Primary School, Fillongley Road, Meriden, CV7 7LW
Windy Arbor Primary School, Woodlands Way, Chelmsley Wood, B37 6RN
Mill Lodge Junior and Infant School, Aqueduct Road, Shirley, B90 1BT
St James' Church of England Primary School, Tollgate Road, Southam, CV47 1EE
Burman Infant School, Velsheda Road, Shirley, B90 2JW